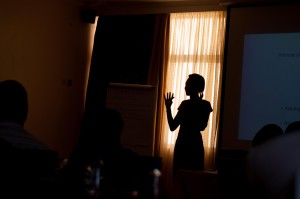 They say a picture is worth a thousand words; now picture yourself, a prospective client, walking into a board meeting or a party. How do you look? What message do you communicate the moment you walk into a room? What are your eyes, hands and shoulders saying? What information can people gather about you before you ever say a word? Never thought about it? You should. And you can start by perusing our top 10 tips to show confidence with body language.
People read your body language, often via instinct and without thinking. Its because our poses and postures are a great source of information. They reflect our mood and our confidence level. We stand and walk a certain way when were confident and another way when were nervous. In a glance, most people can discern if were apprehensive or outgoing, relaxed or aggressive. With a little practice, we can learn the tips to show confidence through body language so that we always appear confident, capable and ready.
No.10 Avoid your pockets
The first tip on our list of the top 10 tips to show confidence with body language is to keep your hands out of your pockets. We put our hands in our pockets when were uncomfortable or unsure of ourselves. And as long as you have your hands stuffed down your pants, thats how other people will view you.
Instinctually we tend to hide our hands when were nervous; keeping your hands out in the open indicates confidence and shows people you have nothing to hide. Also, recognize that putting your hands in your pockets encourages slouching, which isnt good. As an alternative, try putting your hands on your hips; its a far more confident posture.
No.9 ……View all Here