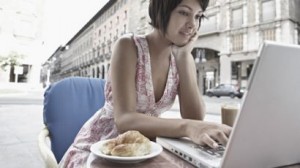 For products like the iPhone, the iPad, and now the Macbook pro, the marketing strategy is all about magic. These are not collections of electronics in a case, it says, these are whole, perfect units that serve as conduits to a world of possibility. At least, until they break and the next unit comes out. Then they're pathetic dinosaurs.
For Apple, planned obsolescence is like a religion — it's able to do that because it makes fantastic products that people want, and it's a master of hype and ceremony. Its products are very expensive, but it sells to people that want the intellectual ease that comes with having a smooth, shiny Apple product. I don't spend a lot of time upgradeing my computers or thinking about what's inside of them, and for consumers like me, Apple is perfect.
It isn't that Apple has no upgradeable products, argues Wiens. It's that consumers have overwhelmingly chosen to support thinner, easier products over more durable and powerful ones. Apple is applying this principle to the new Macbook Pro.
It's not surprising – for years, Apple has profited from taking the tangled mess of electronics that constituted computers and presenting them in easily understandable products. This is the natural outcome of that process. For Wiens, support for products like this encourage the disposability of high-end electronics.
For your fulfilled services;
Dolphins Computers International Ltd.
Town Office-View Park Towers ,10th Fl ,Utalii Lane /
L584-off UN Avenue, Gigiri.
P.O. Box 27859 00100, Nairobi, Kenya.
Email: services@dolphinsgroup.co.ke
http://www.dolphinsgroup.co.ke/compters_index.php
Tel: +254 20 2211362 / 382
Cell: +254 712 636 404
Fax: +254 20 2211386
Dolphins Group