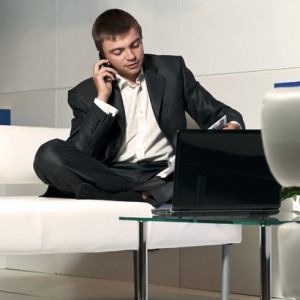 External HDDs[k] typically connect via USB; variants using USB 2.0 interface generally have slower data transfer rates when compared to internally mounted hard drives connected through SATA. Plug and play drive functionality offers system compatibility and features large storage options and portable design.
External HDDs are usually available as pre-assembled integrated products, but may be also assembled by combining an external enclosure (with USB or other interface) with a separately purchased HDD. They are available in 2.5-inch and 3.5-inch sizes; 2.5-inch variants are typically called portable external drives, while 3.5-inch variants are referred to as desktop external drives. "Portable" drives are packaged in smaller and lighter enclosures than the "desktop" drives; additionally, "portable" drives use power provided by the USB connection, while "desktop" drives require external power bricks.
As of April 2014, capacities of external HDDs generally range from 160 GB to 6 TB; common sizes are 160 GB, 250 GB, 320 GB, 500 GB, 640 GB, 750 GB, 1 TB, 2 TB, 3 TB, 4 TB, 5 TB and 6 TB. Features such as biometric security or multiple interfaces (for example, Firewire) are available at a higher cost.
There are pre-assembled external hard disk drives that, when taken out from their enclosures, cannot be used internally in a laptop or desktop computer due to embedded USB interface on their printed circuit boards, and lack of SATA (or Parallel ATA) interfaces.
Get the best External and portable hard disk drives….from
Dolphins Computers International Ltd.
Town Office-View Park Towers ,10th Fl ,Utalii Lane /
L584-off UN Avenue, Gigiri.
P.O. Box 27859 00100, Nairobi, Kenya.
Email: services@dolphinsgroup.co.ke
http://www.dolphinsgroup.co.ke/compters_index.php
Tel: +254 20 2211362 / 382
Cell: +254 712 636 404
Fax: +254 20 2211386
Dolphins Group