5 Steps to a Healthy Cash Flow – Encouraging Prompt Payments …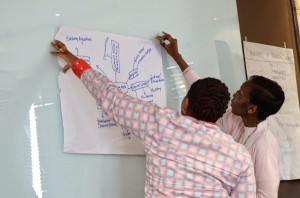 While it is difficult to imagine a business operating without offering credit to customers, maintaining a healthy cash flow is essential for a business to thrive. The availability of ready cash is crucial for ongoing commitments and further growth. Encouraging prompt payments from customers will ensure a timely turn around of cash within your debtors' accounts and assist with the credit collection process.
Having a healthy cash flow means there will be a continuing growth in supplies which will in turn, generate further sales. It also provides sufficient moneys to ensure the payment of creditors. Maintaining the cycle by careful monitoring of your accounts is a positive step on the road to operating a successful business.
1. Screen Customers
Many debt recovery problems can be prevented by only offering credit to those customers with reliable credit history. Taking on a potential customer that you know to be in a high risk category is likely to result in disappointment. Debt collection agencies provide credit checks as part of their services. Spending a few dollars initially to screen customers could save many dollars in the long term.
2. Set Trading Terms
As part of the account application the trading terms need to be set out and clarified with the customer. Make sure they know what they are agreeing to so there is no doubt come the due date that the account is to be paid in full.
3. Invoice for Goods Received
If goods received equals a sale, then a sale requires an invoice. It is good practice to produce an invoice as part of the handing over of the goods. If you are providing a service consider progress payments for work done at agreed times.
4. Offer Payment Options
Long gone are those days of paying accounts by cheque, though there are still some people who insist running a cheque book is the only way to keep track of expenses. Giving your customers more than one option for payment makes it easy for them. Advise details of your bank account either on the invoice or in a separate letter, for internet payments.The more options available the better the chances of bills being paid on time.
5. Update Contact Information
Receiving unopened and returned invoices will leave you with a sinking feeling. What to do if the customer has skipped town or moved address without letting you know? Confirm you have the correct address on file every time a sale is processed or you may need to engage a professional collections agency to follow through with a skip trace across the nation.
Prevention is Best
Prevention is always better than a cure. Take care in the preparation and set up for any new credit account and be consistent with invoicing, sending out accounts and following up those slow payers. In no time the cycle will be in full swing and your cash flow maintained.